February 7, 2014 @ 10:25 PM
The Royal NC Depot Jacket
Worn by Private William B. Royal Co. C, 38thNorth Carolina Regiment
Private Royal was a 19 year old farmer from Sampson County, North Carolina when he enlisted on October 18, 1861. He was mustered into Co. C., 38th North Carolina Regiment. On May 5, 1864 he was wounded in the left shoulder at thebattle of the Wilderness, Virginia. Royal returned to duty in September 1864 and was captured at the Battle of Hatcher's Run, Virginia on April 1, 1865. He was then paroled and returned home after the war.

4 piece body, 2 piece sleeve, 2 inside patch pockets, functional belt loops, the 7 button front is slightly atypical for an NC jacket. The jacket is made of a fine woolen jean with a very slight olive tint on a brown cotton warp. Interesting characteristics of his jacket include the mixture of dye lots within the garment and a mixture of different hand stitching which appear to be from different individuals working on the jacket. These characteristics seem to indicate that this jacket was part of a mass production rather than a jacket which was cut and sewn for an individual out of a single piece of cloth. Currently resides in The Texas Civil War Museum. NC state seal buttons appear to have been added to the jacket.


This jacket was kindly loaned to me in 2000 by Hardy Royal. I had it in my position for over a month. During that time I had the chance to carefully study he jacket and make a pattern from it. At that time it had one 3/4" 4 hole button on the left belt loop and the front seam on the front sleeve had been ripped open. I would suppose this was to aid the injured wearer in putting on and taking off the jacket. 7 button jackets like this, although not seen in great numbers, are seen in images of North Carolina soldiers. Aside from the button count the jacket seems to be very closely related in style to the Amsie Williamson jacket which has been identified as mid-1863 usage.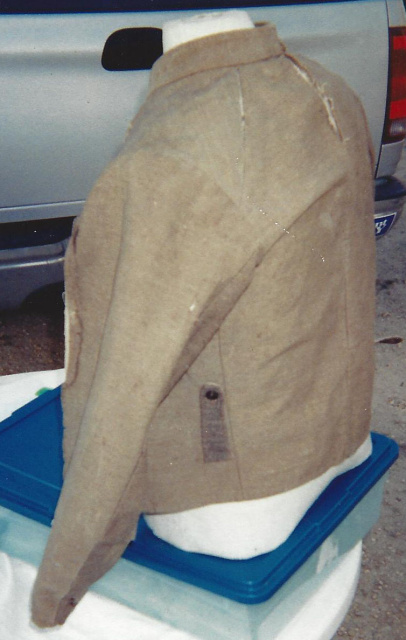 This jacket pattern has been taken from the original. Click here for garment ordering options. Few changes have been made where necessary to standardize the pattern for modern sized individuals. We have done our best to retain all the style lines from the original. Instructions for this jacket are given for both a primarily machine sewn jacket and instructions for reproducing the jacket including all hand stitching which appears on the original.

We suggest B. & B. Tart's logwood or sumac jean on brown warp for a reproduction of this jacket. Logwood and sumac jean are dyed with dyes documented to be used for NC jackets and will fade to a color which resembles the color of the jacket today. If you prefer for the jacket to stay gray we would suggest our "drab jean" which might mimic the color the jacket was when it was new