| | |
| --- | --- |
| Price: | $180.00 |
| Availability: | in stock |
These reproduction blankets are based on an original in our collection. They are 100% wool with dark brown end stripes woven on a tan body. Finished blanket measures approximately 69" wide x 84" Long
These blankets have been woven on Family Heirloom Weaver's shuttle looms and have the proper return selvage edge found on original blankets.
These blankets are proudly woven in Pennsylvania and made from yarns spun in Pennsylvania.
Coming in at 3.2 pounds this blanket matches the weight of an original in our collection carried by Private A. Crow Company E, 7th Indiana Volunteer Cavalry. Our reproduction blanket is marked with (or has instructions to mark) the US with block letter US markings which closely match the original. The images below are of the marking on the original blanket.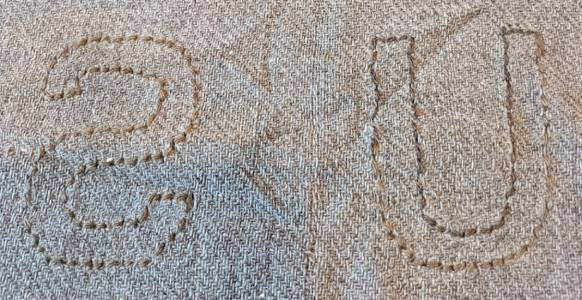 For putting the US on your blanket with other variants these videos from Civil War Digital Digest may be helpful https://youtu.be/tzEfiOdeQqY, https://youtu.be/AkCppBqu0M0
These blankets will come to you properly finished not just cut off the loom in raw loom state.
Single and double plain/unmarked blankets will come with a template, yarn, a needle and instructions on how to mark the US on your blanket(s).
What is a double blanket? Essentially a double blanket is two continuous blankets which have not been cut apart. A double blanket measures approximately 69" wide x 168" Long
Some blankets were bound after issue. The original blanket in our collection was not. If you would like to watch a video on the blanket stitch which can be used to bind your blanket Civil War Digital Digest produced this one https://youtu.be/ZkBEYX2Lggw
Please allow an additional two weeks processing time if are ordering blanket(s) with the US already stitched into your blanket(s).